Chiropractic Professionals of Columbia
1301 Elmwood Avenue
Columbia, SC 29201
803-888-6221
#MyChiroPros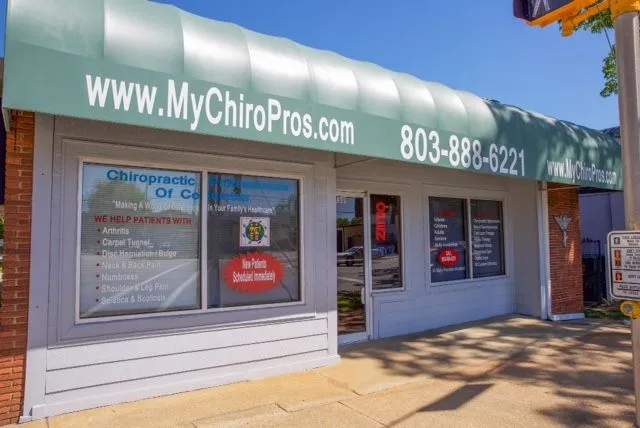 10 Chiropractic Reseach Studies: Chiropractic Professionals of Columbia
Study #1: Immediate Benefits of Chiropractic Visible on MRI
The full title is "Magnetic Resonance Imaging Zygapophyseal Joint Space Changes (Gapping) in Low Back Pain Patients Following Spinal Manipulation and Side-Posture Positioning: A Randomized Controlled Mechanisms Trial With Blinding." It was published in the major chiropractic journal, theJournal of Manipulative and Physiological Therapies(JMPT). The authors are from the National University of Health Sciences.
Underlying hypothesis:If the motion of zygapophyseal joints is decreased for any reason (inactivity, repetitive motion, injury), it is hypothesized that they develop adhesions and that both spinal manipulation therapy (SMT) and side-posture positioning (SPP) break the adhesions by "gapping" the joints (separating the articular surfaces, the same process that happens when you crack your knuckles).
Methods: 112 patients with low back pain were randomized to four treatment groups: SMT, SPP, SMT control, SPP control.
First MRI appointment:Patients were placed in a neutral position prior to treatment; the most painful side was always the up side for treatment. An MRI was taken in the neutral position before treatment, then treatment was given followed by a post-treatment MRI.
SPP Group: SPP, remaining in SPP for 2nd MRI
SMT control group: Side-posture SMT, followed by neutral positioning for 2nd MRI
SMT group: side-posture SMT, remaining in side-posture for 2nd MRI
SPP control: brief SPP followed by neutral positioning for 2nd MRI
Groups 2 and 4 served as control groups because previous studies had shown that returning to the neutral position after treatment resulted in no Z joint gapping difference between the 1st and 2nd MRIs.
Treatment phase: All patients received chiropractic care for 2 weeks, including SMT and other modalities.
Second MRI appointment: After 2 weeks of chiropractic treatment, the second MRI appointment was identical to the first with the exception that the groups were switched (1 with 2 and 3 with 4) so that all subjects were in both an intervention and control group and all subjects were in an SPP and an SMT group during the study.
Results: At the first MRI appointment, the SPP group had greater gapping than the other three groups. (SPP .66 +/- .48 mm, SMT .23 +/-.86 mm, controls .18 +/- .71 mm). At the second MRI appointment, SMT followed by SPP was the only group that showed significantly higher increases in gapping from the first MRI appointment. On pain questionnaires, SMT followed by SPP was the only group that showed significant improvement in pain between the first and second MRI appointments.
Conclusion: They concluded that paraspinal muscles may have relaxed more with SPP at the first MRI appointment, whereas SMT might have resulted in transient increased muscle tightness, and that the reversal of findings at the second MRI appointment may have been because the muscles were more relaxed after 2 weeks of SMT. They conclude that SMT is effective in decreasing pain and increasing gapping and that keeping the patient in the side-posture position for several minutes following SMT may have therapeutic benefit.
Study # 2: AMA Recommends Chiropractic Before Resorting to Surgery
Many treatments are available for low back pain. Often exercises and physical therapy can help. Some people benefit from chiropractic therapy or acupuncture. Sometimes medications are needed, including analgesics or medications that reduce inflammation. Surgery is not usually needed but may be considered if other therapies have failed.
Study # 3: Chiropractic as Effective as Epidural Injections for Lumbar Disc Herniation
This study by Swiss chiropractors, published in the JMPT, was a comparative effectiveness observational study using data from two databases, one of patients who received nerve root injections (NRIs) and the other of patients who received spinal manipulation therapy (SMT) at a single chiropractic practice. Subjects were 51 matched cases of patients who all had MRI-confirmed lumbar disc herniation. (Note: 28% of asymptomatic people also have these same MRI findings.) Two kinds of SMT were given: intraforaminal disk herniation was treated with modified push adjustment with a kick; paramedian disk herniation was treated with pull adjustment with a kick.
Study # 4: Chiropractic Lowers Blood Pressure
This was a study from Sherman College of Chiropractic published in the Journal of Chiropractic Medicine entitled "Blood pressure changes in African American patients receiving chiropractic care in a teaching clinic: a preliminary study." There were only 24 subjects, all black patients diagnosed with pre-hypertension (120-139/80-89) or hypertension stage 1 (140-159/90-99), with or without medication. The data yielded a statistically significant reduction in BP. The diastolic pressure only dropped from 81.5 to 77.1 and the systolic pressure was unchanged.
Study # 5: Chiropractic Best Option for SI Joint Pain
"Treatment of the sacroiliac joint in patients with leg pain: a randomized-controlled trial" was a single-blinded randomized trial from the Netherlands, published in the European Spine Journal. It was a small trial: a total of 51 patients with leg pain attributed to the SI joint were randomized to one of three treatment groups: physiotherapy (exercise), manual therapy (manipulation with high-velocity thrust technique), and intra-articular steroid injections. They set simple criteria for success and failure: success was complete relief or improved VAS (visual analog scale) pain score; failure was dropping out because of worsening complaints or a VAS score that did not improve. The PT group had 12 failures and 3 successes, the manual therapy group had 5 failures and 13 successes, and the injection group had 9 failures and 9 successes. The magnitude of the improvement was small. On the 10-point VAS of pain, PT improved the score by an average of 0.4 points, manual therapy by 1.9 points, and injection by 0.7 points. In their opinion, a clinically meaningful difference was 1.3-2 points. I'm not sure I agree.
They concluded that manual therapy was the treatment of choice for this select group of patients with SI-related leg pain, but cautioned that the findings may not apply to patients not meeting the specific criteria for inclusion in this study and that because of the small sample size, their results need to be confirmed by a larger study.
The patients were referred by general practitioners with the question whether they had a radiculopathy due to a herniated lumbar disc. It can be difficult to differentiate disc pain from SI pain, and some of the tests have questionable inter-observer reliability.
Study # 6: Neck Adjustments Immediately Improve Joint Position Sense
A study from Korea published in the Journal of Physical Therapy Science evaluated 30 normal adults who were divided into two groups (no mention of randomization): the test group was given cervical joint manipulation and massage and the control group got massage only. Reduction in cervical range of motion (ROM) is thought to reduce joint position sense and possibly to be related to dizziness; this study investigated whether increasing ROM in normal volunteers by neck manipulation would improve joint position sense (JPS). Researchers showed patients how to adopt six exact neck positions and then were tested with an inclinometer to see if they could adopt the same positions without instruction. The test group improved significantly on all six tests; the control group didn't. In a comparison of the test group to the control group, two tests showed a significant difference; the other four didn't. Errors declined from 2.5 to 3 degrees pre-treatment to 1-1.2 degrees post-treatment. The authors recommend that:
when treating patients with reduced JPS due to decreased ROM, persistent neck pain, or whiplash injuries, the combined application of cervical joint manipulation and massage [be] used.
Study # 7: Chiropractic Better than Medical Care Alone for Back Pain
A randomized controlled trial by American chiropractors entitled "Adding Chiropractic Manipulative Therapy to Standard Medical Care for Patients With Acute Low Back Pain: Results of a Pragmatic Randomized Comparative Effectiveness Study." Subjects were 91 military men and women between 18 and 35 years of age with acute low back pain (LBP). All patients got standard medical care and 45 were randomly assigned to also get chiropractic treatment. Standard medical care (SMC) was a single visit that might include any or all of the following: a focused history and physical exam, diagnostic imaging as indicated, education about self-management including maintaining activity levels as tolerated, pharmacological management with the use of analgesics and anti-inflammatory agents, and physical therapy and modalities such as heat/ice and referral to a pain clinic. Chiropractic treatment (CMT) consisted of 5 visits for high velocity/low amplitude (HVLA) manipulation plus whatever else the chiropractor chose to do (education, exercise, mobilization, etc).
Results: 73% of the SMC + CMT group reported improvement compared to 17% in the SMC-only group. Satisfaction on a 10-point scale was 8.9 and 5.4 respectively. There were two adverse events after chiropractic treatments
Followup rates were 85% for the standard care group and 63% for the combined care group.
Study # 8: Spinal Adjustments Relieve Muscle Pain Instantly
From the JMPT. 33 healthy young adults with myofascial trigger points in the gluteus medius and infraspinatus muscles were randomized and treated with SMT targeted to the C5-6 spinal segment or with sham SMT. The pressure pain threshold increased in the treatment group. Chiropractic theory says that SMT relieves pain by improving nerve function.
Study #9: Cervical Disc Herniation Eased by Chiropractic
A study by Swiss chiropractors published in the JMPT entitled "Outcomes from Magnetic Resonance Imaging-Confirmed Symptomatic Cervical Disk Herniation Patients Treated with High-Velocity, Low-Amplitude Spinal Manipulative Therapy: A Prospective Cohort Study with 3-Month Follow-Up." This was an study of 50 patients. 55% were "improved" at 2 weeks, 69% at 1 month and 86% at 3 months, according to the patients' own global impressions; there were no objective measurements. Improvement was greater in patients with acute pain than in those with chronic pain.
Study # 10: Chiropractic Thaws Frozen Shoulder Syndrome
From the Journal of Chiropractic Medicine. This was a case series of 50 consecutive patients diagnosed with frozen shoulder syndrome (FSS) and treated with a series of chiropractic manipulation treatments of the cervical and thoracic spine, plus a novel chiropractic method, the OTZ Tension Adjustment, which involves a "skull glide" and an HVLA thrust to correct occipito-atlantal subluxation.The findings:
Many of these patients' complaints seemed to improve or resolve within 1 month of presentation, whereas, in general, it is thought that FSS symptoms can persist for 2 years or more.
Dr. Norbert W. Benson II D.C. with the Chiropractic Professionals of Columbia, in South Carolina We can Help! We can See you Today. Just Call 803-888-6221 Or Visit us on the Web at www.MyChiroPros.com
Chiropractic Professionals of Columbia
1301 Elmwood Avenue
Columbia, SC 29201
803-888-6221
#MyChiroPros#ColumbiaSCChiro#FamouslyHotChiro
Reviews From Our Patients:
Jonathan Locklair
"Dr. Benson and his team are outstanding professionals. Extremely personable and incisive. He utilizes top-of-the-line technology to ensure that you get the results you are looking for. Wonderful experience and great prices!"